Welcome to Carlisle Sight Support
Current opening hours are Wednesday and Thursday 10am - 3pm
---
Who we are?
We are a local Registered Charity for visually impaired people and depend largely on donations and grants to carry out our work.
---
Who we support
We work with blind and partially sighted people of all ages. We endeavour to work together to promote independence, choice and confidence and aim to provide the services our members tell us they require. Below you can listen to three of our members talk about the impact of losing their sight.
Ruth talks about how the Society has helped her - Listen Here
Agnes talks about the need to find the right support for you - Listen Here
If you would like to support us with a financial donation, please find details of how you can do this HERE
---
What's new?
New Project - A new podcast from Carlisle Sight Support available soon on Spotify!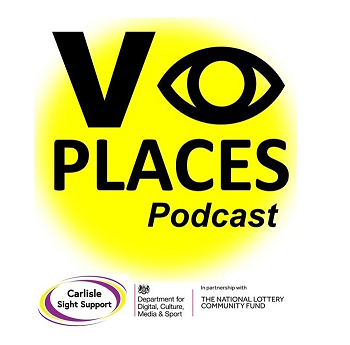 Coming soon to Spotify, V.I. Places, is a podcast about favourite places in Carlisle (and elsewhere) produced by Carlisle Sight Support and featuring guests with sight loss. Kindly funded by the Department for digital, culture, media and Sport in partnership with the National Lottery Community Fund, you can follow the link to the playlist, which we will be developing over the coming weeks.
https://open.spotify.com/playlist/2Dgb8D3Zc9WtG8ZvJthh64?si=9a4c01040c494955
New Project - Priority Services Register
Carlisle Sight Support have teamed up with Northern Gas Networks and Leeds Community Fund to encourage our members to sign up to the Priority Services Register with their energy company. If you have a disability or illness which means you might struggle without your electricity, water or gas supply, even for a few hours, it's a good idea to get added to your supplier's Priority Services Register. To find out more and to register, go to: https://www.northerngasnetworks.co.uk/network-supply/priority-customers/
---
Donors and Funders
As well as our kind donors, we are also supported by Cumbria Community Foundation, The Hadfield Trust, The Albert Hun, t Trust, The National Lottery Community Fund, HM Government/National Lottery Covid 19 Emergency Fund, the Department for digital, culture, media and sport in partnership with the National Lottery Community Fund and Leeds Community Fund.
Our Society was formed in 1992 and in March 1993 we opened our Resource Centre in Finkle Street and our present Resource Centre opened in Sept 1996 thanks to a lottery grant.
Charity No. 1010927
---